PaulaG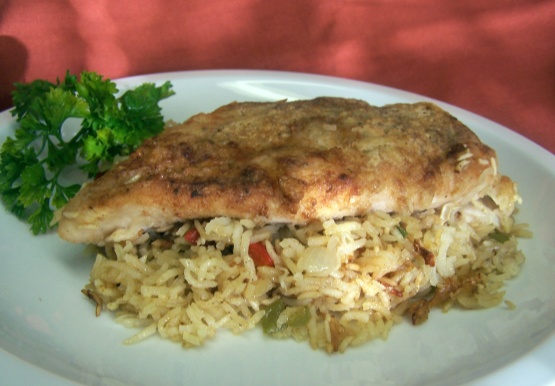 This recipe is from A Texas Hill Country Cookbook. It's so much more flavorful than plain old chicken and rice and gets a little crispy on top which I love. I use skinless boneless chicken breasts.

Top Review by Gerry
A delicious oven chicken that is already looking to a second making. Made as posted. Super easy, super good, and makes for great presentation. Looks awesome served on a white platter - definetely a company quality meal. Highly recommend this to anyone wanting a chicken recipe to impress family and friends. Thank you!
Roll chicken in seasoned flour.
Brown in skillet with butter.
Preheat oven to 350.
Remove chicken and saute onions, garlic and green pepper.
Add pimento and uncooked rice.
Stir over heat 2 minutes.
Add chicken broth, chili powder, comino seed, salt and pepper.
Put rice mixture into greased casserole dish and arrange chicken breasts over top.
Bake uncovered for 1 1/2 hours.