Chicken Gyros With Cucumber Salsa and Tsatsiki

Gourmet March 2009 Posting this for ZWT 6 Greece.
2 kirby cucumbers, divided
1 1⁄2 cups Greek yogurt (3/4 pounds)
1 teaspoon fresh lemon juice, divided
5 garlic cloves, minced, divided
1 pint grape tomatoes, quartered
1 small red onion, halved and thinly sliced
feta (optional, to taste)
1⁄3 cup chopped flat leaf parsley
1⁄4 cup chopped mint
1⁄4 cup extra-virgin olive oil
1 teaspoon dried oregano
1 teaspoon dried rosemary, crumbled
1 (12 ounce) package naan bread (four 8-inch pieces)
pocketless pita bread round
1⁄2 roast chicken, skin discarded, meat shredded (about 2 1/4 cups)
1⁄2 head iceberg lettuce, thinly sliced
Directions
Preheat broiler.
Peel and grate 1 cucumber, then squeeze it to remove excess water. Stir in yogurt, 1/2 teaspoon lemon juice, one third of garlic, and 1/4 teaspoon each of salt and pepper to make tsatsiki.
Cut remaining cucumber into 1/4-inch pieces and stir together with tomatoes, feta (if using), onion, parsley, mint, remaining 1/2 teaspoon lemon juice, and 1/4 teaspoon each of salt and pepper to make salsa.
Gently simmer oil, oregano, rosemary, remaining garlic, 1/4 teaspoon salt, and 1/8 teaspoon pepper in a small heavy saucepan, stirring constantly, until garlic is fragrant but not browned, 1 to 2 minutes. Toss chicken with 3 tablespoons garlic oil and brush one side of bread with remainder.
Heat bread, oiled side up, in a 4-sided sheet pan, covered with foil, 3 to 4 inches from broiler 3 minutes. Uncover and broil, rotating bread for even coloring, until golden in spots, about 2 minutes.
Spread some of tsatsiki on warm bread and top with chicken and some of lettuce and salsa. Serve remaining lettuce, salsa, and tsatsiki on the side.
Cooks' note: Tsatsiki can be made 1 day ahead and chilled.
Most Helpful
Tasty! Easy version, using roasted chicken. Really nice and quite authentic tasting. I used a lot more lemon, drizzling it all over the chicken as well, as tossing it in the oil.
Nice! I liked the fact that the salsa and tsatsiki were made and added separately (made it prettier), and the fact that the bread was flavored first and then warmed under the broiler (gave the bread a nice crunch and taste). I added a bit of feta to the salsa, used less oil, left out the parsley and used vegetarian chicken strips instead of real chicken because we are vegetarians. Thank you!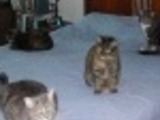 Good stuff! I did use leftover grilled chicken. I toasted my pita over an open flame. Omitting the oil. I used home grown lettuce. Made for ZWT6 Thanks.