PaulaG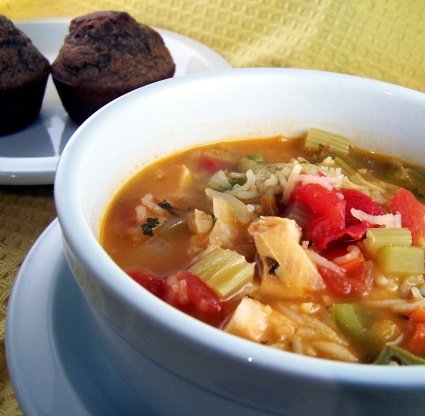 Gumbo has a long and storied history. When you go back to the roots, in a regional sense, there are two types. The white or Cajun gumbo from southwest or south-central Louisiana, and the red or Creole gumbo which developed around New Orleans where tomatoes were more readily available. This recipe is neither.

This simply isn%u2019t gumbo. It is a very bland vegetable chicken soup that leaves anybody trying gumbo for the first time thinking%u2026 it is really strange that all those rednecks down on the Gulf Coast love this stuff so much? Please folks gumbo is really good and shouldn%u2019t have it%u2019s good name sullied by something that isn%u2019t gumbo. This chicken soup might be a great tummy warmer in the dead of winter in Wisconsin but nothing more.

I made this recipe just to see if the recipe I%u2019ve used for years was simply too complex for no good reason. It may be a bit more complex but there is a reason that people have made gumbo this way for 150 years. This concoction as it stands tasted a lot like hospital food. The things that are missing here that remain critical to creation of authentic gumbo are, to name a few: thyme, basil, cayenne pepper and although thickened with okra a little file%u2019 powder would add the final essence of a really tasty gumbo. Deglazing the trinity with a little white wine would also add body and character. Lastly a really thick dark brown roux is a must to carry the complex and wonderful mixture of ingredients in gumbo to the next level. I gave this recipe a one because it is chicken soup, and I like chicken soup, but unless renamed I would give it a large negative number if they were available for forgeries.
In a large soup pot, add all ingredients.
Bring to a boil.
Reduce heat and simmer until all vegetables and rice are tender.
Remove bay leaf and serve.