Chicken Gizzard Paprikash
Lorac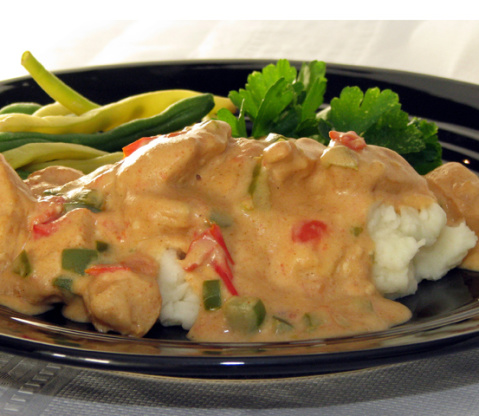 A rich, red Hungarian-style stew. Serve with pasta or potatoes. I use a mix of gizzards and hearts, or I substitute the organ meat for chicken pieces, cubed beef or pork.

Top Review by Lorac
PAC 2008 A lovely version of paprikash! Adding the chopped green pepper near the end of cooking is genius. The little bites of green pepper add a pop of flavor and texture to the creamy delicate sauce. I made the recipe using cubed boneless chicken breast, 3 garlic cloves, sweet (not hot) Hungarian paprika and 1 large tomato. The only substitution I made was to use chicken broth instead of water. Thank you for this delicious and easy recipe.
Fry onion in oil or butter till light yellow.
Reduce heat and rapidly stir in paprika.
Add meat, cut into desirable pieces, salt and brown.
Add garlic, crushed or chopped.
Add only enough water to braise, not boil.
Cover and simmer until tender. Add water if evaporates and stir occasionally.
When meat softens, add green pepper, tomato and a bit more water or stock.
While simmering a few more minutes, blend flour and sour cream together.
Add to stew, stirring, till thickened.
I have omitted the thickening step for more of a soup result.