Delish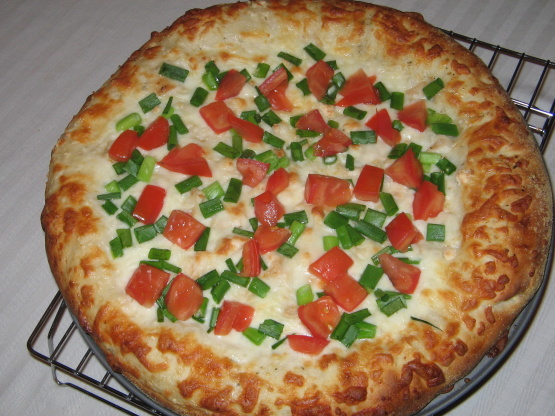 I experimented in the kitchen to create a pizza my husband loves. It doesn't use your traditional tomato based sauce. Instead, it uses a jar of alfredo sauce. We like to use garlic alfredo sauce. The garlic really makes the pizza. It may seem like a lot, but trust me, it's good. Buying already minced fresh garlic saves time and hastle. I prefer to use the pizza pans with holes in the bottom or else the crust can get a little soggy. The crust recipe uses a breadmaker but any pizza crust recipe will work. Using my breadmaker for the crust saves a lot of time- I used to make this weekly. We love it!

This pizza was so delicious! It was the first recipe i made on my new pizza stone, and boy was I glad I chose it! However, I had to do a few macgyver like moves in the kitchen. Much to my dismay - my garlic was all bad! So, I just used A LOT of garlic powder while cooking the chicken, as well as adding some Italian Seasoning. I also sprinkled an Asiago/Parmesan/Romano mix on top of the chicken right after i pulled it off the heat, and let it melt on top of the chicken. I didn't have any green onions either, so I caramelized a yellow onion. The alfredo sauce I used was a lighter version of an Alfredo Sauce (Very Low Fat Tomato Alfredo Sauce Recipe #39786. I just left out the tomatoes in the sauce recipe.) After spreading the sauce on the crust, I placed the shredded chicken, the onions and then sprinkled lower fat mozzarella cheese on it and a little bit of asiago/parm/ramano mix, with some shakes of Italian seasoning. After about 10-15 mins, i place the tomatoes on top and cooked for about 5 more minutes. AMAZING!
Place crust ingredients in bread machine pan according to manufacturer's directions.
Meanwhile, spray frying pan with cooking spray. Saute chicken and 2-3 tablespoons minced garlic. Add 1/4 cup Parmesan cheese and garlic powder to taste, if desired.
When dough cycle is completed, spray pizza pan with cooking spray and sprinkle cornmeal evenly over pan.
Press dough across pizza pan, leaving edges slightly elevated.
Mix remaining garlic with alredo sauce and spread over dough with rubber spatula. Sprinkle with garlic powder and Italian seasoning.
Sprinkle chicken mixture evenly over sauce.
Top with shredded mozzarella. Sprinkle with additional Parmesan cheese if desired.
Bake at 425 for 15-18 minutes. Remove from oven and sprinkle tomatoes and green onions on top.
Bake an additional 5 minutes. Remove from oven and let cool for a few minutes before cutting.