Chicken-Fried Steak for Two
~Nimz~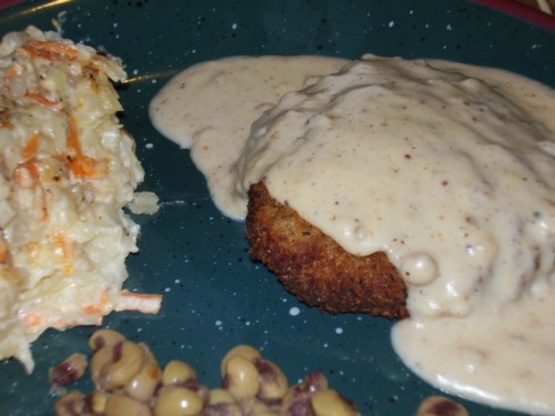 This is a slightly altered version of Chicken Fried Steak that I got out of a cookbook. It is a really good recipe for the cheaper cuts of steak, because if the steak is a little on the tough side, you can return it back to the gravy and simmer until tender.
We got four sandwich steaks and prepared them according to the directions. This recipe was chosen because of the many good reviews, simplicity to make, and very basic ingredients which most all folks have in the kitchen. They were great, very tasty, and a welcome change from the same old beef recipes. Highly recommended. Laryofvt
1

cup dry breadcrumbs
1⁄2 teaspoon salt
1⁄4 teaspoon pepper

1

round steak, cut half and pounded

1

large egg, beaten
1⁄4 cup vegetable oil

2

tablespoons flour
1⁄2-1 cup milk
additional salt and pepper
On a plate, mix bread crumbs with salt and pepper.
Dip steak in beaten egg, then bread crumbs.
Heat oil in heavy skillet and add meat.
Brown over low heat until done.
Place on warm platter and keep hot.
Make a gravy by adding flour to pan drippings.
Stir over mediun heat until light brown.
With a whisk, stirring constantly, stir in milk until desired thickness.
Add salt and pepper to taste.
You can return steak to pan and simmer or you can spoon the gravy over the steak when served.