Prep 10 mins
Cook 20 mins
These are Crispy breaded Spam slices.I won third place at our local Spam cookoff with this a few years ago.I do love the SPAM T-Shirt and Spam Spatula I got for it.
1 (16 ounce) can Spam, sliced about 1/2 inch thick
2 cups self rising flour, seasoned with
salt & pepper
2 eggs, slightly beaten
1⁄8 cup hot sauce, I use Crystal
1⁄8 cup milk
1⁄4 cup oil (for frying)
Directions
Mix eggs,milk and hot sauce in a bowl.Hot sauce does not maintain it's heat so use how much you want.
Put flour salt and pepper in another bowl.
Heat oil in a pan to about 300 deg.I use peanut oil.
Dip Spam in egg then flour and fry til golden brown.I serve with Chicken gravy and mashed Potatoes.
I also use this method for cube steak,fried chicken and fried green tomatoes.
Reviews
Most Helpful
This is a terrific recipe. I really am a Kept Man and I am always looking for dinner recipes my lover will enjoy. I made a half recipe because there are only two of us and I eat twice what she does. The major change was to add green beans as a second vegetable. She liked it and was taken aback when she learned it was Spam.<br/><br/>I grow Habenero peppers in my garden so I sprinkled some on my plate.
AWESOME!!! Two of my favorite dishes, combined...fried SPAM & Chicken Fried Steak!!! I used the 25% less sodium SPAM...I find that the regular is too salty & the Lite is tasteless. I floured the SPAM, then into egg wash & back into the flour....worked out fine!!! I thought they were even better when smothered in the chicken gravy! THANKS for sharing!!!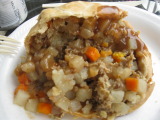 We loved it! The family is a fan of chicken fried steak, so this was a natural extension. Had a can on hand, went together quickly, no complaints! The wife commented it was the most unusual way she had ever eaten Spam.