tessa83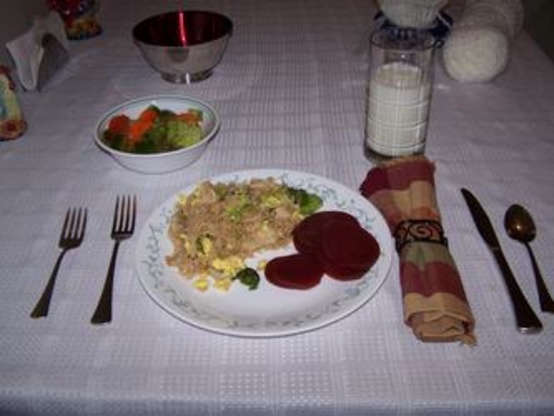 I love this dish. My mom made it all the time while I was growing up and it was always a fav. Now I make it for my husband and its his favorite as well. Usually when I make it I use a little extra broth and let the veggies cook longer so they aren't crunchy. And I always use an extra egg. Yum Yum! Everyone that tries this dish LOVES it!
Combine chicken, soy sauce and 1/2 teaspoon salt. Let stand 15 minutes.
Cook rice in hot oil in skillet over medium heat until golden brown; stir frequently.
Reduce heat, add chicken with soy sauce and broth.
Simmer, covered, 20 to 25 minutes, or until rice is tender.
Remove cover last few minutes.
Stir in onion, green pepper and celery.
Cook uncovered over medium heat until liquid is absorbed.
Push rice mixture to sides of skillet. Add eggs; cook until almost set. Blend into rice mixture. Stir in lettuce; serve at once with soy sauce.