Prep 10 mins
Cook 15 mins
Directions
Dip the chicken in the flour then set aside.
Make the batter by beating the eggs briskly, then adding in the lemon juice, parsley, salt, wine, garlic, hot pepper sauce, and parmesan.
Coat a heavy skillet with margarine or olive oil and place over high heat.
Dip the floured chicken pieces generously in the batter and place in the heated skillet.
Cook until golden brown on each side, about 5 minutes each side.
Remove chicken from the pan and drain excess oil.
Make the wine sauce by melting the margarine in the pan, then stirring in the wine and lemon juice.
Return the chicken pieces to the pan, spooning the wine sauce over all and cook 1 minute longer.
Serve immediately.
Most Helpful
Fabulous ! Made this exactly as printed. The family loved it and I will be making this a regular addition to my 'usuals'

Wonderful recipe. This is my favorite thing to get when I go out to eat. I never knew it was so easy to make! I added some mushrooms to it and a little more lemon but stuck to the recipe otherwise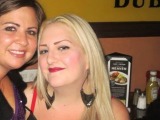 Put Ckn Breast between a piece of plastic wrap and pound until flat with a meat tenderizing hammer. Cut the breast in 1/2 now and that is approximately equal to TWO 3 and 1/2 ozs of ckn breast pieces. This makes the ckn cook faster and it melts in your mouth once cooked. The wine should be White Wine, either cooking wine or drinking wine. My family did not like the sauce at all so I recommend making just the amount shown here. I quadrupeled the sauce because of the comments listed on this page and ended up throwing it all away.