Chicken Florentine Casserole
Prep 25 mins
Cook 25 mins

I did a search for a recipe containing chicken breast, mushrooms and fresh baby leaf spinach and I found this delicious and simple recipe on AllRecipes.com. It is very easy to put together and I found it to be quite tasty. I hope you will enjoy it!
Directions
Preheat oven to 350°F.
Place the chicken breast halves on a baking sheet and bake 20-30 minutes, or until no longer pink and juices run clear.
Remove from oven and set aside.
Increase oven temperature to 400°F.
Melt butter in medium saucepan over medium heat.
Stirring constantly, mix in the garlic, lemon juice, cream of mushroom soup, Italian seasoning, half-and-half, and Parmesan cheese.
Arrange spinach over the bottom of a 9x9-inch baking dish sprayed lightly with cooking spray.
Cover the spinach with mushrooms.
Pour half the sauce mixture over the mushrooms.
Arrange chicken breasts in the dish over the mushrooms then cover with remaining sauce.
Sprinkle with bacon bits, then top with mozzarella cheese.
Bake for 20-25 minutes in 400°F oven until bubbly and lightly browned.
Serves 4.
Most Helpful
This is an awesome dish! I did make some adjustments, suggested by other reviewers on allrecipes.com. I left out the mushrooms (not a fan). I sauteed fresh spinach (two bags) with olive oil and minced garlic. I cooked some bacon in the same pan, then sauteed the chicken breasts in the same pan (after removing most of the bacon grease). I added chopped dried onion to the sauce and used skim milk instead of 1/2 & 1/2. I also put a little part-skim mozzarella in with the cream sauce, as well as on top. I baked (uncovered) at 375 for about 30 minutes. Delicious!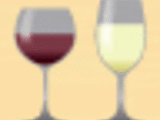 This was SOOOO good! We loved the garlic flavor and the mix of the spinach and mushrooms with the chicken- heavenly! I didn't have any parmesan cheese, so I ended up leaving it out of the sauce and it was still good without. I used fresh baby spinach like another reviewer said they did and it worked perfectly- just remember to put more in that you think you need because it will cook down a ton- I used half of a bag and felt like I could have used more! Overall, this was a really great, easy recipe! DH loved it and was talking about "when we have it again" before dinner was over! Thanks for sharing, Bev!

Very yummy! It was a little much for just the two of us, but it is definitely a wonderful recipe that we will enjoy again!