Chicken Floating in Curried Coconut Soup
Coasty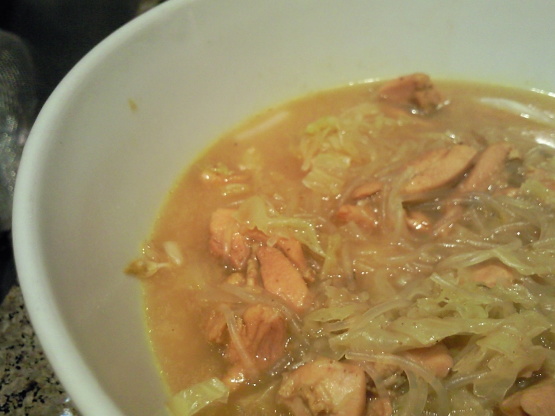 We love Thai food, my husband asks for this dish regularly. This is my version of a popular soup, which, I have made very spicy. All the flavors together create an unforgettable treat.

Top Review by Coasty
Very tasty soup, I made a couple of changes - left out the sweet chili sauce, soy & mirin and used some Thai coconut sugar and added fresh chopped bird-eye chili to make it extra hot - I like hot food! I also add some bean thread noodles and shredded cabbage. I made this as part of the Aus/NZ Swap #39
4.92-9.85

ml sesame oil, good quality

2

chicken breasts, boneless, skinless

2

(1600 ml) can coconut milk

354.88

ml chicken stock, good quality

1

stalk lemongrass, cut into large slices, easier to remove

14.79-29.58

ml lime juice, fresh

14.79-29.58

ml mirin

14.79-29.58

ml fish sauce

4.92

ml soya sauce

14.79

ml sweet chili sauce

14.79

ml sambal oelek, chili paste

14.79

ml red curry paste

14.79

ml tamarind paste

14.79

ml garlic, chopped

14.79

ml shallot, chopped

1

green onion, thinly sliced

2

Thai chiles, fresh, sliced into thirds, not seeded

1

jalapeno, thick slices, not seeded

1

inch ginger, peice, fresh, halved

1

galangal, large slice

4

mushrooms, thinly sliced

1

red pepper, thinly sliced

44.37-73.94

ml brown sugar, Torbino

59.14

ml basil, Thai fresh, thinly sliced (optional, garnish)

59.14

ml cilantro, thinly sliced (optional, garnish)
Saute the boneless, skinless chicken breasts in sesame oil, over medium high heat, until they are golden brown.
Remove the chicken from the pan, cool, slice thinly and put in refrigerator until needed.
To a pot add the coconut milk and chicken stock, mix well.
Add all the remaining ingredients, except for the garnish.
Allow to simmer for 15 minutes then add the chicken to the soup.
Now simmer for another 15 minutes, then pour the soup into bowls and garnish with Thai basil or cilantro.