Chicken Flautas With Chunky Guacamole
alligirl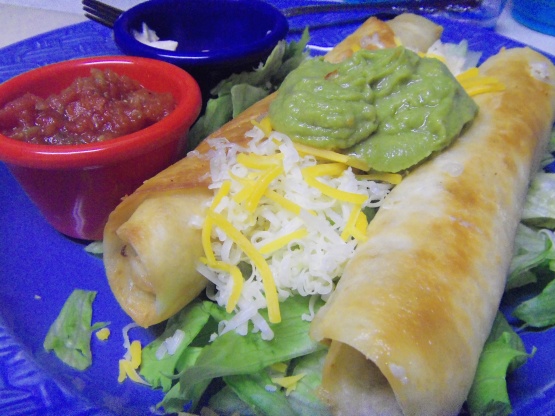 Ole!!! Flautas are similar to taquitos, which are rolled tacos. These flautas use flour tortillas to give them light crispiness! The perfect accompaniment is chunky guacamole, with many of the same flavors from the flautas--enjoy!

The first time I made these I followed the recipe and fried in oil, I liked them then but didn't like how oily they were from frying. The next I made these I borrowed the directions for Oven Fried Chimichangas #28148, I brushed the flautas with 2 T melted butter and baked at 400 for 25 minutes, they came out great!
FLAUTAS

3

cups shredded cooked chicken

2

teaspoons lemon juice

1

teaspoon cumin

1

jalapeno, diced (more or less, to your taste)

2

tablespoons chopped cilantro

2

garlic cloves, minced
1⁄2 cup monterey jack cheese, shredded
salt and pepper

12

small flour tortillas (about 6 inch)
oil (for frying)

GUACAMOLE

2

avocados
1⁄2 small red onion, diced (not too small)

1

jalapeno, diced (more or less, to your taste)

4

tablespoons cilantro, chopped

2

teaspoons lemon juice
1⁄2 cup cherry tomatoes, halved (or a whole tomato, diced)
salt and pepper
FLAUTAS: In a bowl, combine all flauta ingredients (excluding tortillas and oil). Allow to rest about 15 minutes to marry flavors.
Place about 2 tablespoons of chicken mixture in center of flour tortilla, and roll-up like a cigar. Secure with a toothpick.
Continue with remaining tortillas. Keep flautas covered with a damp paper towel to prevent drying out.
Heat enough oil in skillet to come almost halfway up sides of flautas (about 1/4 inch depth).
Quickly fry flautas on all sides until lightly golden brown. This happens very quickly, so don't walk away.
Drain on paper towels and serve with Chunky Guacamole.
CHUNKY GUACAMOLE: Dice avocados into chunks and place in a medium bowl.
Add remaining guacamole ingredients, and gently toss to combine.
Season to taste with salt and pepper. Serve immediately.