Chicken Filets With Pecan or Walnut Crust
gemini08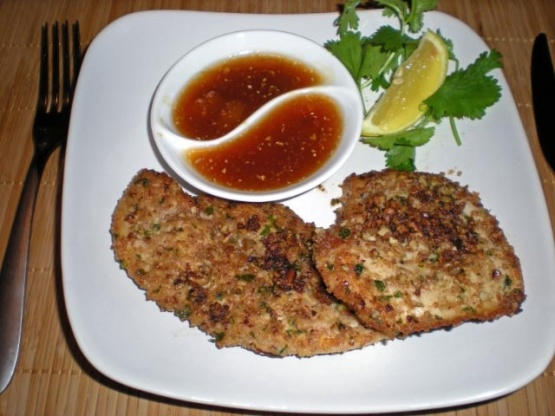 Deliciously moist and crunchy chicken with a tangy apricot - ginger - soy dipping sauce. Serve it with cous-cous or rice pilaw and your favorite veggies of the season.

By far one of the easiest and tastiest chicken dishes I have ever made or had...seriously! This was so easy to make and very moist and tender with a wonderful dipping sauce. I made exactly as written, using walnuts rather than pecans. I really think the coconut oil for sauteing gives this a wonderful flavor so please don't use any other oil...it was so worth it. As my grandson kept saying: "this is hecka good chicken"! Made for Fall 09 PAC
Put pecans and bread crumbs together in a food processor and and pulse a couple of times until mixture is finely ground and well mixed, empty on a plate.
Lightly pound filets between two sheets of wax paper, moisten them with a dash of lemon juice and add salt to taste.
Dredge filets on both sides in crumb - nut mixture, using the palm of your hand to pat it on, shake off excess.
Heat coconut oil In a heavy skillet, add chicken and saute on both sides until nice and brown. Turn only once. Work in batches if necessary.
Do not let the oil get too hot otherwise the nuts will turn bitter.
In a small skillet heat apricot jam and soy sauce with the rest of the lemon juice, add grated ginger and chili flakes to taste. Heat through.
Divide chicken filets between 4 heated plates, garnish with lemon wedge and cilantro.
Serve with dipping sauce. Enjoy!