Chicken Fettuccine, Cajun Style
lazyme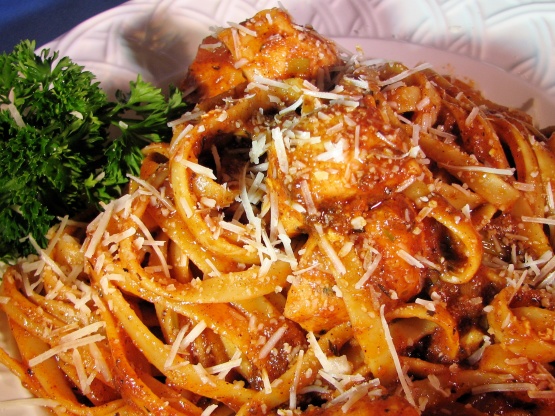 This recipe came out of the Oregonian from Portland, Oregon by Hall Street Bar & Grill in Beaverton. When I made this I left out the cayenne pepper in both places. It was too spicy for me.

This was very good! I did cut back on the butter to about 4TBS total and I cut back on the cayenne by about half. I also used crushed tomatoes because I was out of sauce. Oh, and I doubled the basil and cumin.
Thanks for the great recipe!
To Prepare Sauce:.
Heat butter in saucepan over medium heat.
Add onion and whole garlic cloves and saute for 5 minutes.
Remove whole garlic and stir in minced garlic, thyme, cayenne pepper, white pepper,.
black pepper, and basil.
Continue cooking until onions are dark brown but not burned, about 20 minutes.
Stir in chicken stock, Worcestershire, and Tabasco sauces. Simmer for 20 minutes.
Add tomato sauce and bring mixture to low boil.
Stir in sugar and green onions. Simmer for 1 hour.
Sauce can be made ahead of time and refrigerated until ready to use.
To prepare Chicken Seasoning Mix:.
Thoroughly combine the kosher salt, white pepper, garlic powder, cayenne pepper, black pepper, cumin, and basil.
To Finish:.
Toss seasoning mix with chicken cubes until cubes are evenly coated. In medium saucepan, melt 1/2 C butter. Saute chicken over medium heat until done, about 10 minutes.
Heat sauce and prepare fettuccine according to package directions.
Drain cooked pasta. Stir chicken into sauce and continue heating until hot.
Toss with cooked fettuccine. Serve immediately. Sprinkle each serving with grated parmesan cheese.