Chicken Fettuccine a La Fuente
bernrome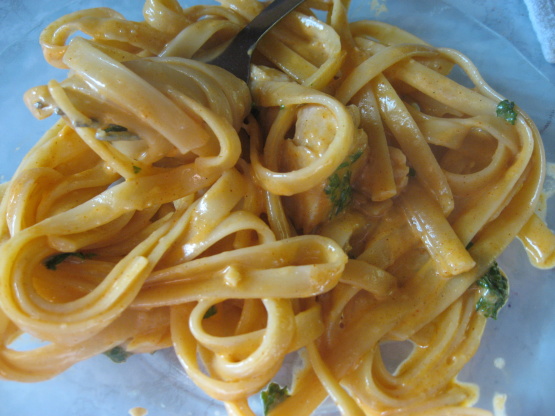 I found this recipe in a Pillsbury Bake-Off publication. I don't cook very frequently but when I do, this recipe is one I make often. My family loves it. Don't overmix as this can cause the chicken and pasta to disintegrate. Also, I double the amounts of taco seasoning, whipping cream, parsley and Parmesan cheese. I find the original amounts (which is what I listed) too dry. I like my pasta creamy.

I really liked this, but I agree with you that next time we will probably use more cream, I'd like to have some extra sauce to soak up with some breadsticks or something. Otherwise, the flavor of this was really great, and it is super easy to put together.
Cook fettuccine as directed on package; drain.
In a large skillet or Dutch oven, heat oil over medium-high heat until hot. Add chicken, stirring occasionally, until chicken turns white. Stir in garlic and taco seasoning mix. Cook 1 minute. Stir in cream. Reduce heat to low; cook 3 to 5 minutes, stirring constantly until heated through.
Stir in parsley and cheese. Add cooked fettuccine; toss to coat, but don't overmix. Cook 1 minute, stirring constantly, until heated through.
Garnish with additional parsley and cheese.