Leslie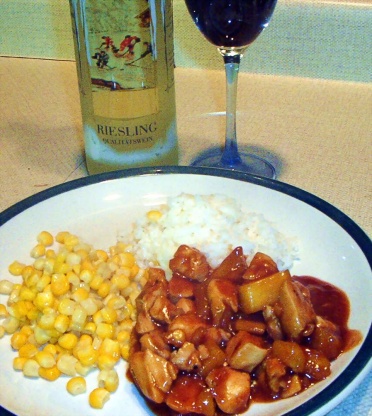 From a bed and breakfast, fast and easy but if you don't like a lot of salt use low sodium soy sauce

I was a bit skeptical of this recipe after reading some of the reviews, especially since I thought it might be too barbecue sauce-y and my bf HATES barbecue sauce. We were very pleasantly surprised! It wasn't too sweet or too salty for us (either can often be an issue in our house) - I used regular soy sauce and regular onion soup mix. My bf thought it had a bit of a Thai flavor to it but, I didn't get that. We served this with buttered white rice and steamed buttered brussels sprouts. I will definitely be making this again as it was so quick and easy to put together on a busy weeknight. Thank you for sharing!
Mix all ingrediants but chicken and rice till well blended.
Mix in cubed chicken and place in a casserole dish.
Bake at 350 for 45 minutes to 1 hour (till chicken is done).
serve over rice.