PaulaG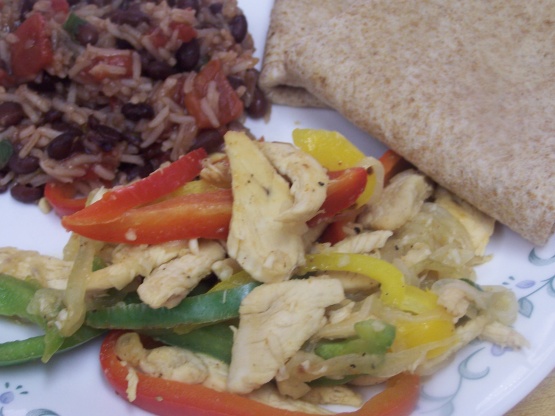 A recipe for "dump" chefs
Top Review by PaulaG
This recipe is unique in that it allows you to prepare the dish to your liking and that is what I did. Used 2 boneless chicken breasts, sliced. Then added a mixture of green, red and yellow peppers. I also decided to add some cumin and cayenne pepper to the pan. Served these with whole wheat flour tortillas, subbed yogurt for the sour cream and homemade salsa.
Dump the chopped garlic, chopped onion, salt and pepper in either wine or beer to equal about 1 cup and combine well.
Dump the chicken breast and vegetables in the mixture and marinate for a couple of hours or overnight.
In an oiled hot iron pan, sauté the chicken, peppers, onion slices and diced tomatoes until done.
Slice the chicken and serve immediately with warmed tortillas.
Serve with cheese, guacamole, sour cream, chopped chilies and salsa.