ovittles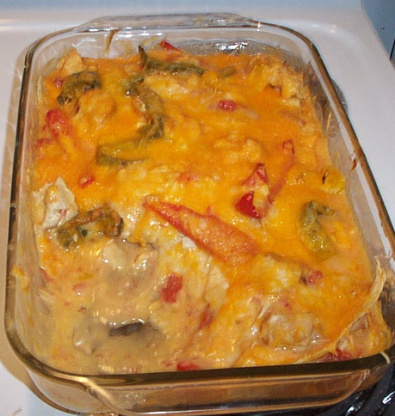 I found a recipe on Recipezaar.com called "Gringo Casserole" which was very good, but I got the idea to make it more like my favorite Mexican dish; chicken fajitas. My whole family loves this dish and it's very easy to make.

I tryed this recipie for the first time last nightand I have to say WOW this was great very tasty. It was a big hit with famly and friends. They inhailed it nothing was left. great recipie

Chef mike
Boil breasts for 20 minutes or until thoroughly cooked.
chop chicken into chunks and set aside.
Saute onions, garlic, peppers, salt& black pepper over medium heat until tender.
Mix soup, tomatoes-chile& chicken in large bowl.
Tear tortillas into fourths.
Layer tortillas on bottom of baking dish, top with soup-chicken-tomatoes-chiles mixture, then top with layer of sauted veggies, then top with layer of cheese.
Repeat as needed until dish is full to top.
Bake at 350 for 35 minutes.