Chicken Enchiladas by Sher
lovezu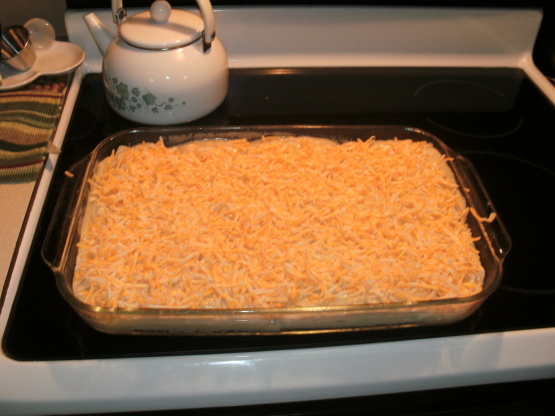 The bests Chicken Enchiladas ever!!! Picky kids love them!!! My Familys Favorite dinner. I customized the recipe to fit my family, but I actually get neighbors asking me for this, they are quick and super easy. You can use any kind of tortilla you like!! Make it with all low fat ingredients also.
Preheat oven to 350,.
melt 2tbs margarine in a frying pan on low.
dice chicken into small 1/4-1/2 inch pieces, chop onion and combine both chicken and onion into frying pan; raise burner temp to medium.
cook chicken & onion on medium heat until chicken is completely done, no longer pink.
add 1 package cream cheese, 3/4 can of diced chillies, cook on medium low until cream cheese is melted. Stir often.
Remove From Heat.
In a large Bowl combine sour cream, mushroom soup, the rest of the green chillies, the entire enchilada sauce can. Mix thoroughly!
For each enchilada: one tortilla, add shredded cheese, spoon some chicken mixture in, then roll. Place the filled tortilla seam side down in a large baking dish. Repeat until mixture is gone or pan is full ;).
pour the Enchilada sauce mix over the top of the rolled tortillas. Spread evenly covering the entire pan. Sprinkle cheese on top.
Bake at 350 degrees until cheese is melted and sauce is bubbly.
Let cool 10 minutes before serving!