Hey Jude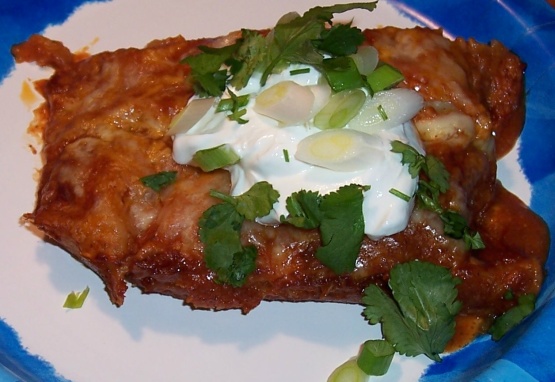 I love this recipe you can use chicken or substitute beef. Its great either way! To save myself time on making chicken I buy the pre-seasoned shredded chicken or seasoned ground beef. If I don't buy premade stuff, i always season my meat.

Excellent recipe. I made as stated, except left out the salt, didn't have green onions, so I sauted a 1/2 cup of reg. onions, and left out the cilantro (don't care for it), and it was delicious. I used leftover chicken from Kittencals-Best-Blasted-Rapid-Roast-Whole-Chicken. There's just the two of us, but I made the whole recipe, we ate four and I froze the rest for when I have "the boys" over for dinner. DH's 2 friends that can reallllllllly eat. I'm sure they will love it.
Enchilada sauce directions:.
Heat corn or canola oil in large sauce pan; stir in flour and chil powder; cook for 1 minute.
Add remaining ingredients, bring to a boil, and simmer for 10 minutes.
Filling.
Heat oven to 350°F.
Prepare enchilada sauce below.
In a medium bowl, mix chicken, green onions, 1/2 cup cheddar, 1/2 cup monterey jack, sour cream, chiles, and cilantro.
Stir in 1/2 cup enchilada sauce.
Season with salt and pepper, set aside, heat 1/2 inch corn or canola oil in large pan.
Fry tortillas, one at a time until soft (10 seconds per side).
Drain on paper towels, spray 9"x 13" baking dish with non-stick cooking spray.
Spread small amount of sauce in bottom of dish.
Spread 2 heaping tablespoons of chicken mixture in each tortilla& roll up.
Place seam side down, side by side in prepared dish.
Pour remaining sauce over, top with remaining cheeses and bake until bubbling, 15-20 minutes.
Garnish with extra sour cream, sliced green onions and chipped cilantro.