Pamela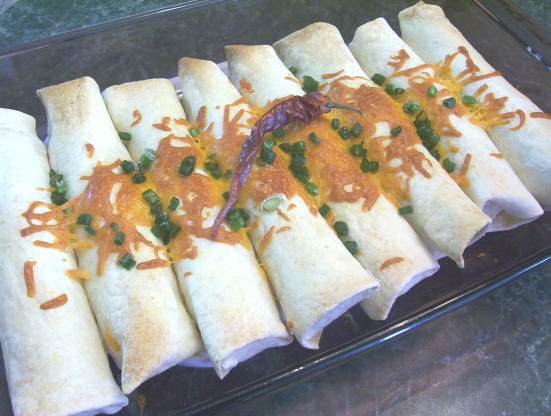 This is a great recipe after Thanksgiving when you have an abundance of leftover chicken or turkey!

Top Review by Monica
These were very good. My DH loved them, and so did I. I used red peppers b/c I was out of gr. peppers. Even my kids like them, and anything with onions or peppers are hard to sneak past them. I used chicken breasts that I chopped up fine and sauted with seasoning.
Heat oven to 350 degrees.
Fry onion, and green pepper in margarine over medium heat for approx.
2 minutes.
Stir in chicken, 1/4 cup salsa, cream cheese and spices.
Cook until thoroughly heated.
Stir in 1 cup cheddar cheese.
Spoon approx.
1/3 cup of mixture into centre of each tortilla and roll up.
Place, seam side down in 12 x 8 baking dish.
Top with remaining salsa and cheese.
Bake for 20 minutes.