Cat13TN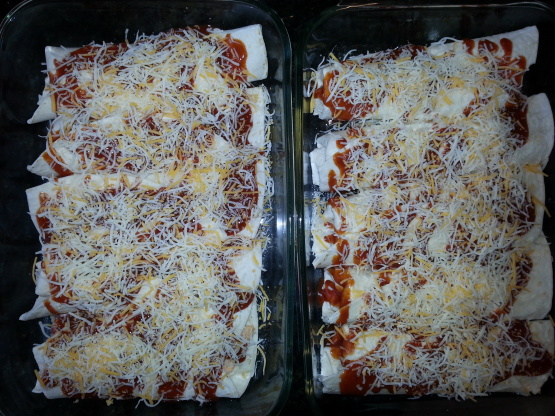 Quick & Easy Homemade Chicken Enchiladas makes 10-12 enchiladas, GREAT leftovers and to take to work for lunch, reheats very well!
226.79

g package cream cheese

2

(708.73 g) cantyson's canned white chicken meat

453.59

g jar enchilada sauce (I used food lion brand, have tried them all, it tastes best)

10-15

burrito-size flour tortillas (depends on how much "stuff" you punt in each one)

If you like spicy my family does I add at least one of the following

crushed red pepper flakes or 1 jalapenos or 1 taco bell hot sauce

946.36-1419.54

ml shredded Mexican blend cheese or 946.36-1419.54 ml cheddar cheese
You will also need: 2 9x13 pyrex casserole dishes.
Put cream cheese in large mixing bowl, soften in microwave 30-45 seconds.
Add your spice of choice if any.
Drain chicken, pour into bowl, mix chicken and cream cheese, and spice, once mixed well, add 1/4 cup of the enchilada sauce, mix well, add 1-2 cups of cheese (or however much you and family prefer, my family loves cheese so i use a lot ).
Add more sauce if you feel it's needed, if you add too much, no worries, add some more cheese.
Spry pyrex dishes with cooking spray to prevent enchiladas from sticking.
I use a rubber spatula, i place about 1/4 cup of mixture onto a tortilla an spread it out down the middle of the tortilla. Fold over one end of the tortilla perpendicular to the mix then roll up tortilla. Place in pyrex, repeat until mix is gone.
Pour remaining enchilada sauce over top of enchiladas.
Sprinkle desired amount of cheese on top of enchiladas.
Cook uncovered for 30 min at 350.
1 tortilla = 1 serving.
Makes about 10 tortillas, the more mix you put on each tortilla, the less tortillas you get. I usually make 10, my husband and son eat 2 and i eat one, the rest get taken to work by my husband and I.