Brenda.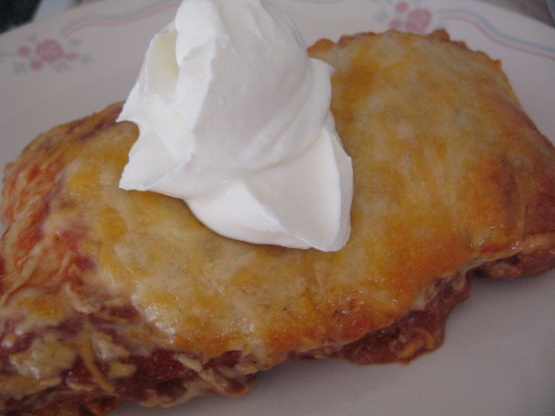 Creamy, cheesy chicken enchiladas are perfect comfort food.

This was an easy way to make a tasty batch of enchiladas. I had the chicken already cooked so they went together in minutes. I adapted the recipe by adding a 4oz can of diced green chilies to the filling and using 1 cup of pepper jack cheese in place of one cup of the mexican blend. I also sprinkled the top with black olives and served with recipe #275428. Thank you for a lovely meal! Made for Fall PAC 2008
Boil chicken until cooked through.
Cool chicken then shred into small pieces.
Chop onion and combine with sour cream and shredded chicken in large bowl.
TO ASSEMBLE ENCHILADAS:.
Lay out one tortilla.
Spread a small amount of enchilada sauce on tortilla.
Place 3-4 tablespoons of chicken mixture on tortilla.
Top with taco cheese (2 tablespoons).
Roll up tortilla and place seam side down into a 9x13 baking dish.
Repeat until chicken mixture is all used.
Cover enchiladas with remaining enchilada sauce and finish by topping them with an even layer of shredded mild cheddar cheese.
Bake in preheated 350°F oven for 30-35 until cheese is bubbly.
All cheeses, enchilada sauce and onion can be used in greater or lesser amounts to taste. Its almost impossible to ruin these!