xtine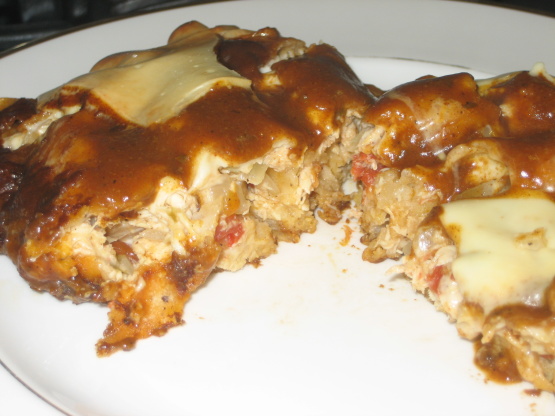 These enchiladas use a Texas-style enchilada sauce - the sauce's main ingredient is chile powder, not tomato. They are quite popular. For the chicken, I buy a whole pre-cooked chicken and dice up the breast meat. This provides about 1 and 1/2 cups. Reserve the rest of the chicken for another use. The sauce can be made gluten free by using corn starch. See instructions below.

This was awesome! :) Simple directions, delicious results! I also have never made my own enchilada sauce, so I wasn't sure how this would work out. I don't even LIKE the store brands of sauce... so thanks for making this so simple! Also- I cut up about 12 oz total of fresh tomatoes and a couple jalapenos in place of a can of Rotel tomatoes, and it worked very well. I also added a handful of shredded Mexican-blend cheese on top in addition to the other cheese...we love cheese! Thanks so much for the great recipe!
Preheat oven to 400 degrees.
Heat 3 tablespoons olive oil in a saucepan over medium heat. Stir in the 3 tablespoons flour & cook for 3 minutes over medium-low heat to create a roux. Add all other dry ingredients & cook for 1 minute, stirring to blend well. Add chicken broth 1/2 cup at a time, stirring well the entire time. Continue to stir while cooking over medium-high heat until the sauce thickens. Turn heat to low, cover & simmer for 15 minutes, stirring occasionally. If the sauce seems too thick after 15 minutes, you can add some water to adjust the thickness - it should have the consistency of a thick gravy. Set sauce aside.
*TO MAKE THE SAUCE GLUTEN FREE*:.
Omit the flour, and cook the spices in the olive oil over low heat for 1 minute. Add the chicken stock and bring to a simmer over medium-high heat. In a small container, combine 2 tablespoons of corn starch with 1/4 cup of cold water - mix until all the lumps are gone and the corn starch and water are well combined. Stir the cornstarch mixture into the chicken stock/ spice mixture, mix well, and bring to a boil. Simmer for 5 minutes or until the sauce has thickened. Set sauce aside.
Saute onions in 2 tablespoons olive oil until translucent. Add garlic & cook, stirring, for 1 minute more. Add rotel tomatoes & chiles and chicken. Stir well & simmer for 5 minutes. Take off heat & set aside.
Wet a clean kitchen towel with water and wring it out - you want it to be pretty damp but not dripping wet. Wrap 10 tortillas (at a time) in the towel and microwave them on high for about a minute. Be careful opening the towel to get the tortillas out, they will be hot.
Place a tortilla on a flat surface and place a tablespoon of cheese on the tortilla. Spoon in about 2 to 3 tablespoons chicken mixture and roll up tortilla. Place seam-side down in a greased baking dish. Repeat w/ remaining tortillas. Once all the enchiladas are packed into the baking dish, pour the sauce over them, making sure the tops of the enchiladas are well coated. Cover the top of the casserole with any remaining cheese.
Bake at 400 degrees for 20 to 30 minutes until all is bubbly and the cheese on top is browned. Let sit for 5 minutes before serving.