Chicken Enchilada Rice Casserole
Maiden77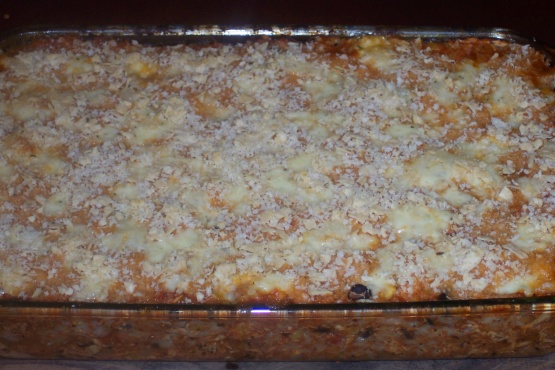 My husband is a big mexican and tex-mex food fan and I am always looking at easy ways to make something new that the kids will also like. I usually make my own enchilada sauce and have some steashed in the freezer, which I recommend everyone finding a recipe for sauce they like because it is MUCH better than canned. If you don't want to venture into making your own (or just in a hurry) you can use your favorite canned variety. My family prefers Fritos as their crushed corn chip of choice but you can use whatever you have on hand or prefer. Also I used hominy but corn tastes just as good (I will list the substitution in the recipe.) I hope y'all enjoy it! This recipe can take on a variety of changes and additions and I am sure everyone will prefer it different, just like with enchiladas.

We enjoyed this recipe! My daughter just had her 2nd baby (1st daughter is only 20 months) so she and her husband have their hands full! I wanted to make some meals that could be frozen, that they could take right out of the freezer. Made your recipe up, except for the cheese and crushed Fritos on top (I included these in separate Ziploc bags, taped to the casserole dish, then froze it). I doubled the recipe so my husband and I could enjoy after a busy day at work. Easy and good. Thanks for sharing!
3 1⁄2 cups enchilada sauce

1

cup chicken broth

2

cups instant rice

1

(15 1/2 ounce) can black beans, drained and rinsed

1

(15 ounce) can hominy, drained and rinsed (or 2 cups frozen corn, thawed)

1

(15 ounce) can rotel (or diced tomatoes with green peppers)
hot sauce (to taste)

3

cups cooked chicken, shredded

2

cups monterey jack cheese, shredded
1 1⁄2 cups corn chips, coarsely crushed (we prefer Fritos)
Preheat oven to 450 degrees. Combine the enchilada sauce, broth, rice, tomatoes, beans, and hominy in a 9×13 baking dish. Season with Tabasco sauce to taste, depending on how spicy you want it. It can be left out if you do not like even mildly spicy.
Bake for 20 minutes, remove from the oven and stir in the chicken. Sprinkle on the shredded cheese and then the crushed chips.
Return to the oven and cook for 15 more minutes.