Chicken Enchilada Lasagna Bundles
Zaney1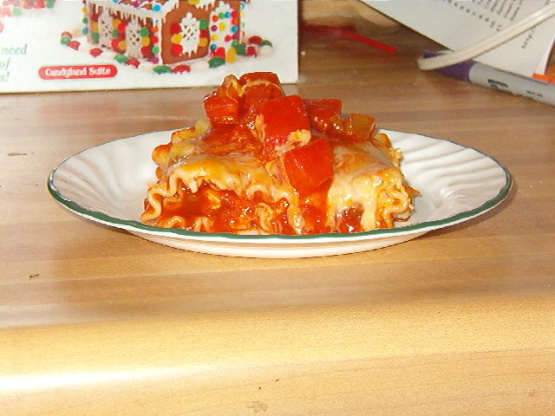 Mexican ingredients rolled in pasta.

Top Review by Zaney1
Great change of pace for lasagna noodles! It even turned out great with only a half cup of sour cream. The household "refriger-raiders" ate the rest!!I used a mexican blend cheese instead of the pepperjack. They are a little messy to roll up but they taste great! I also just poured all of the sauce over the top and then baked it.
Heat oven to 350 degrees.
Grease 13x9 baking dish.
Cook noodles as directed on package and drain.
Mix enchilada sauce, chilies and tomato.
Mix chicken, Monterey Jack cheese, onions and 1 cup sour cream.
Spread about 1/2 cup sauce mixture into baking dish.
Spread about 1 teaspoon sauce mixture over each noodle; spread evenly with about 1/4 cup of chicken mixture.
Roll up each noodle; place seam side down on sauce in dish. Spoon about 1 cup sauce over bundles. Sprinkle with the Cheddar cheese.
Cover and bake 40 to 45 minutes or until hot in center.
Heat remaining sauce in saucepan; spoon over bundles. Serve with additional sour cream.