megs_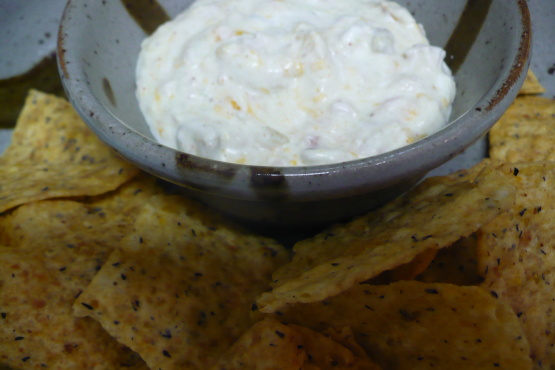 For some reason I just love this dip. I usually have a little leftover chicken from dinner. I chop it and freeze it just for this dip. In a pinch you could use the already cooked chicken strips from the grocery store, but that could get very expensive. You can also double this for a party and use a 13 x9 pan instead of the pie plate. I keep meaning to make enchiladas out of this filling to see how it goes, but I haven't gotten around to it yet.

Top Review by megs_
WOW! This is delish. I used lowfat cream cheese/cheddar cheese. I also used the precooked, pre-cut grocery chicken since I had some on hand. I finely chopped it using my food processor. I added in a little cumin and used a little less cheese and green chilies, but this was STILL perfect! I will be making this again and again, even for company or potlucks. It's THAT good! :-D I am going to try the rest of it in enchiladas too, what a great idea - thanks for sharing this one!
PREHEAT oven to 350°F
Beat cream cheese, 1 cup of the shredded cheese, chilies and seasonings in small bowl with electric mixer on medium speed until well blended.
Stir in chicken.
SPREAD into 9-inch pie plate.
Sprinkle with remaining 1 cup shredded cheese.
BAKE 20 to 30 minutes or until dip is heated through, and cheese is melted and just slightly browned at edges.
Serve with tortilla chips.