Chicken Enchilada Casserole
pammyowl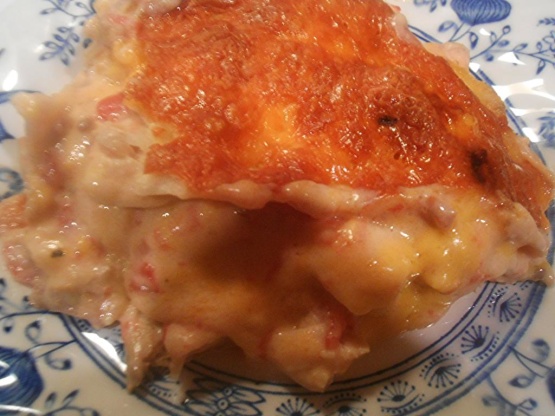 My mom made this when I was growing up. *Cook time does not include boiling chicken. Can also use a store bought rotisserie chicken cut into bite-size pieces.*

I tried this a month ago for a make ahead Sunday dish and we have had it 3 times since then....it was fantastic! My husband and I are both very busy so I like to make a "home cooked" meal on Sunday and this is usually what we have. I boil the chicken with cilantro and then use the canned Ro*Tel with cilantro and lime juice and it is just perfect. Easy to make and leftovers are just as good! Thanks!
Boil chicken, cool and shred into bite-size pieces.
Place chicken, soup, sour cream, green chilies and olives (optional) in a bowl and mix well.
Cut tortillas in ½ or ¼ (your preference) and layer on the bottom of a greased (spray with cooking spray) casserole dish so entire bottom is covered.
Spoon 1/3 mixture on top of tortillas
Top with 2-3 oz shredded cheese (enough to cover chicken mixture).
Repeat tortilla, chicken filling and cheese layers two times
Bake at 350°F until cheese is melted and casserole is heated through; approximately 30-45 minutes.
Note: Depending on the desired thickness of the casserole you can use a 9x13 or 8x8 baking dish.
*This can also be made with corn tortillas however they will be a little chewy*.