Chicken Enchilada Casserole
riffraff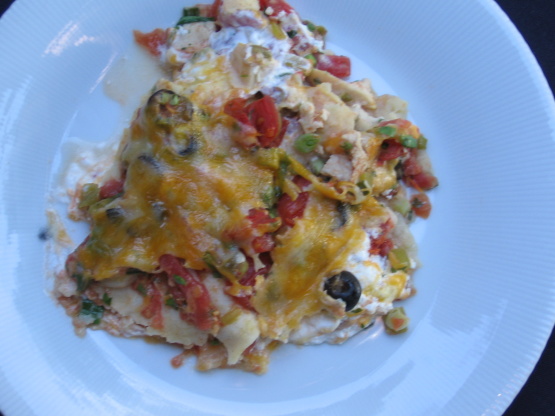 I found this in one of my 365 meals cookbooks. This looks easy and yummy. I'll be making it sometime this week.

Top Review by Steph.
This is a good basic recipe to use as a starting point, but I think it needs some serious tweaking to add a little heat and flavor. Generally, sour cream isn't cooked in a dish because it changes texture if cooked at too high a heat. The sour cream in this casserole turned to a ricotta-like texture, which is ok if you like ricotta in your enchilada casserole. My suggestion would be to leave it out and put a dollop on top of each serving when plating. I would also use no more than five tortillas and tear or cut them into pieces, as another reviewer suggested. I used nine tortillas as indicated in the recipe, and the casserole came out much drier than I prefer, because the tortillas soaked up all the liquid and became more like masa in tamales. The flavors of the other ingredients just got lost in all that starch. Rotel tomatoes are a must in this dish, and some jalapeno slices, either fresh or canned, would kick up the heat a bit. Avocado and cilantro would make a nice garnish, too.
Preheat oven to 350. In a 12x8 inch baking dish, place 3 tortillas. Layer on 1/3 of the tomatoes, chicken, scallions, chilies, olives sour cream and cheese.
Cover with 3 more tortillas. Repeat the layering process twice, ending with tomatoes and cheese.
Bake, uncovered, for about 35 minutes or until bubbly and heated through.