Chicken Drumsticks in Ginger Wine
ImPat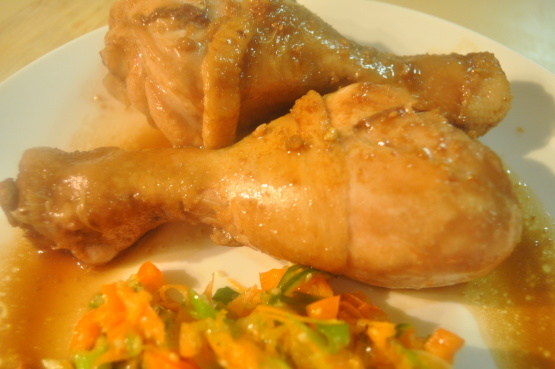 This is an adopted recipe of mine. I have added a few ingredients, lengthened the cooking time, and I thnk it's great!

Top Review by ImPat
We had a little :oops: moment when serving there on the side of the bend was the ginger wine I forgot to add but have to say it still tasted delicious the hint of chilli was just right with all the other flavours, cooking time was perfect and there was heaps of liquid left in the pan. I just poured the sauce over the pan in which I initially browned the chicken and took it from there, thank you Jan great little recipe, made for Make My Recipe - Spring Edition.
Heat oil in a pan and fry chicken until browned a little.
Combine all other ingredients in a saucepan; add the chicken .
Bring to the boil, then simmer until chicken is tender and sauce is reduced and thickened (about i hour).
Add a little more water to the saucepan if the sauce reduces too much before you think your chicken is cooked.