Chicken Drumsticks in Aromatic Crust
awalde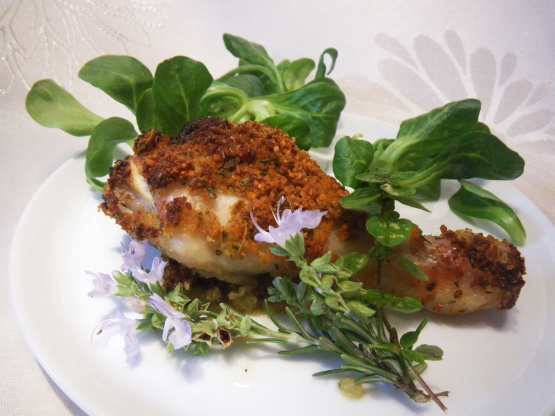 What you are looking for: crunchy outside, tender inside and aromatic drumsticks!

This recipe was submitted for the Craze-E Contest 2010. The theme/ category was GIFTS from Your Kitchen! However, nothing was mentioned within this recipe regarding it being intended as a gift... Also, the recipe included chopped green olives, however, it was not included in the instructions and where to add them. I also, was not sure about the measurements for some of the fresh vs dry ingredients. Q: Can the same amounts be used for either fresh or dry herbs?
(I used dry ingredients). Further, I did not have red lentils so substituted Chana Dal & Yellow split lentils. Also, the recipe called for sprinkling water as the drumsticks when baking. However, I added to much and the finished drumsticks was not extremely dry but good! I enjoy making recipes that I have not tried before like using lentils as a crust for the drumsticks... so decided to try this one. Finally, with a few corrections to this recipe, it can easily be a 4 star one!
Crumb red lentils with a food processor to flour.
Add rosemary, oregano, pepper, chili, olives and salt.
Mix all together shortly with food processor (will crumb a little).
In a shallow bowl, combine to dressing white wine vinegar and olive oil.
Dip chicken into dressing, then coat with crumb mixture pressing on with fingertips.
Place on prepared tray. Spray drumsticks with the remaining dressing.
Bake for 10 Minutes (uncovered at 350 degrees), then sprinkle with water (heat and timing are basing it on convection oven).
Continue to bake in the same way for another 35 minutes or until golden and cooked through.
Serve hot with salad or vegetables.