-Sylvie-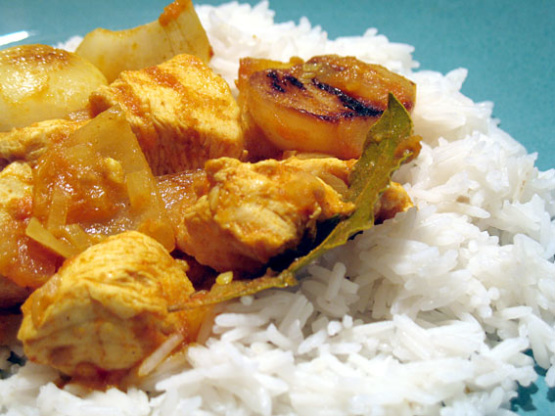 In Hindi "do" means "two" and "piaza" refers to onions - hence the origin of the name of this dish, which has prominent flavors of onion.

Top Review by bobbyt
Excellent Dopiaza, that had both me and the wife wanting more. Delicious aromas, and spicy flavours, make this a winner. Quite a dry curry but great with basmati rice. I added some tomato puree and a little youghurt, which worked just great too. Good recipe, thanks and we're having another this weekend.
Heat 2 tablespoons oil and fry the halved onions until tender and translucent. Remove and keep aside.
Add the remaining oil and saute the bay leaves, cardamom, cloves, chilies and peppercorns.
When they crackle, add the chopped onions this time, together with the garlic and ginger, and saute for 3 minutes.
Add the ground spices and salt and cook for 3 minutes.
Add the water and tomatoes and simmer 5 minutes until sauce starts to thicken.
Add the chicken pieces and continue to cook for 12-15 minutes.
Add the reserved small halved onions and then cover and cook for a further 8-10 minutes until chicken has cooked through.