BecR2400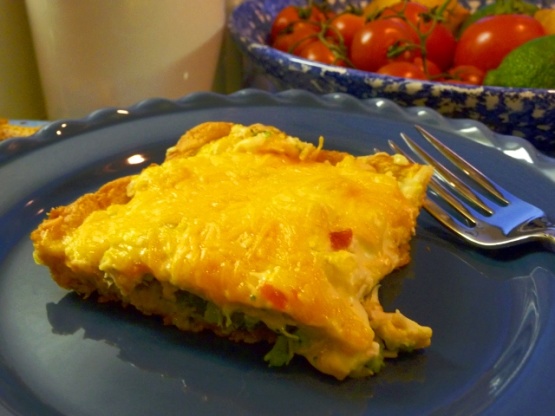 My DH loves this wonderful dish! Warmed leftovers are great. Very easy to prepare and a meal-in-one! Try it!

This looked like a nice comfort kind of main dish, so I made this dinner for a couple who live in our park & they loved it! I didn't measure the amount of chicken, but did cube 3 good-sized chicken breast halves that I'd baked the day before! Next time this dinner is for ME & MINE! Thanks for sharing your recipe! [Made & reviewed as a kidnapped recipe in the Aus/NZ Recipe Swap #16]
Unroll dough and spread out into an ungreased 9 x 13 inch baking pan, pressing over bottom and 1/2 inch up sides to form a crust.
Bake crust at 375 degree for 10 minutes and remove from oven.
Trim away stem portions of florets and discard. Cut broccoli into small pieces.
Distribute broccoli, cubed chicken and pimento evenly over crust.
In separate bowl, mix mayonnaise, mustard, soup and 1/2 cup of cheddar cheese. Spoon.
this mixture evenly over chicken. Sprinkle top with remaining 1 cup of cheese.
Bake at 375 degrees for 15 to 20 minutes. Let stand 4 minutes before cutting into squares and serving.