vrvrvr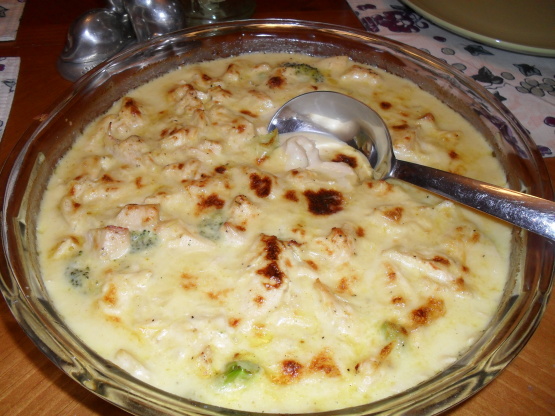 Top Review by vrvrvr
Seriously delicious food. I had less than 2 lbs. of broccoli and chicken, but I made the same amount of sauce. It was perfection, and believe me when I say that folks at the table were tempted to lick the serving dish. I subbed 1/4 t. curry powder for the nutmeg. So that gave it just barely a hint of curry flavor. We all thought this dish was far superior to the version with cream of chicken soup and lots of curry powder. The white wine, the butter, and homemade chicken stock all produced a memorable entree that we will most certainly make again! Served with crispy rolls, corn, and mixed greens salad with a tart vinagrette. Wowee!!!
Spray a 13x9x2 inch baking dish with PAM.
Place broccoli in dish.
Top with chicken slices.
Make a white sauce with butter, flour, broth, half and half, wine and 1/2 cup cheese.
Pour over chicken and broccoli.
Sprinkle with remaining 1/2 cup cheese and nutmeg.
Bake in 350 oven for 20 minutes.
If desired, broil until browned.