Rita~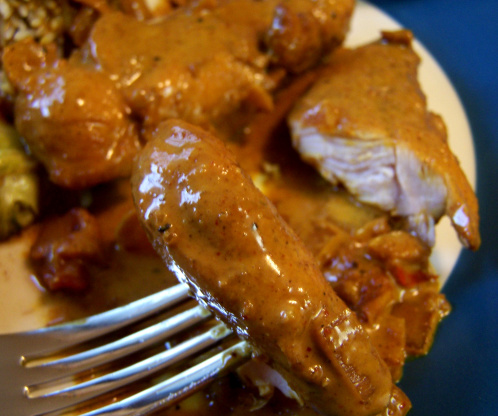 This dish is extra-rich! Incredibly easy to prepare. It is the kind of recipe that guarantees you can impress your guests without spending hours and hours in the kitchen! It's great served with rice, just add steamed fresh broccoli and you have a beautiful dinner! From Chef Paul Prudhomme's Fiery Foods That I Love cook book.
Combine the seasoning mix ingredients in a small bowl.
Sprinkle the chicken evenly with 2 Tablespoons of the seasoning mix. Rub it in well.
The turmeric in the seasoning mix turns the chicken a pretty golden color.
Heat the oil in a heavy 5-quart pot over high heat just until the oil begins to smoke, about 4 minutes.
Brown the chicken in batches, about 3 minutes on each side, then remove from the pot.
Add the onions to the pot and cook, stirring and scraping the pot frequently, for 8 minutes.
Stir in the syrup, jalapeno peppers, heavy cream, and remaining seasoning mix and scrape the pot bottom thoroughly to loosen all the brown bits.
Return the chicken and the accumulated juices to the pot and push it into the sauce.
Bring just to a boil, reduce the heat to low, then cover and cook, stirring occasionally, until the chicken is done, about 15 minutes.
Serve hot.