ImPat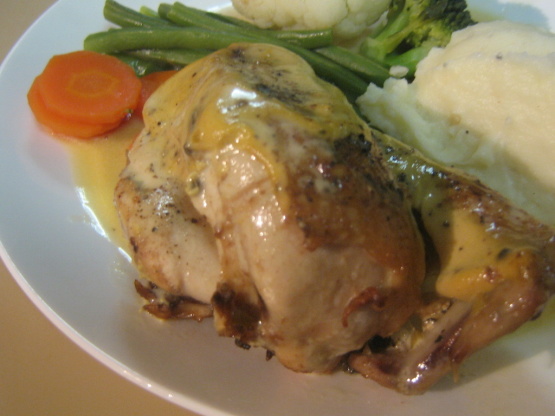 Chicken thighs generally taste juicier and more flavourful than breast meat, but feel free to try it with breasts if you prefer. To remove the skin from chicken thighs, grasp one corner with a piece of paper towel and give it a good tug. From food and drink. Hope you enjoy!

We really enjoyed this chicken recipe for dinner last night. I used boneless, skinless chicken thighs, but next time I will make sure to use the bone-in kind as specified to give it more substance. We love dijon and we found the mustard cream sauce to be very flavorful. Since I had less than 2 lb of chicken, I made the whole sauce proportion and served mashed potatoes topped witht the extra sauce as a side. This worked really well. I served with a side of roasted zucchini as the vegetable as I had some that needed immediate using. While it seemed like a strange choice, it went together fine. Thanks for a nice dinner, Leslie. I will definitely make this recipe again.
Preheat oven to 375ºF.
Melt butter with oil in a large flameproof casserole or ovenproof skillet over medium-high heat.
Sprinkle chicken thighs with salt.
Cook in batches 5 to 7 minutes, until golden brown on all sides.
Remove chicken thighs from casserole as each batch cooks, and set aside on a plate.
Reduce heat to medium, add shallots to fat remaining in casserole.
Cook, stirring, 3 to 5 minutes until softened.
Return chicken thighs to casserole, meaty side up, along with any juices that have accumulated on plate. Cover casserole and transfer to the oven.
Cook 25 minutes, until chicken is cooked through.
Remove chicken thighs from casserole. Arrange meaty sides up on a baking sheet. Spread 2 tbsp mustard evenly over thighs. Sprinkle with pepper.
Return chicken thighs to turned-off oven to keep warm.
Tip contents of casserole into a sieve set over a bowl, reserving contents of sieve. Skim off as much fat as possible from liquid in bowl.
Return skimmed liquid to casserole, along with wine.
Bring to a boil over high heat, stirring to scrape up any brown bits from bottom of casserole.
Boil over high heat 3 to 5 minutes, until liquid has reduced slightly.
Whisk in cream and remaining mustard.
Stir in contents of sieve.
Boil, stirring, 2 to 3 minutes, until sauce has thickened slightly.
Taste and add salt and pepper if necessary.
Arrange chicken thighs on a warm shallow serving dish and pour sauce over and around chicken.
Garnish with thyme and serve at once.