Parsley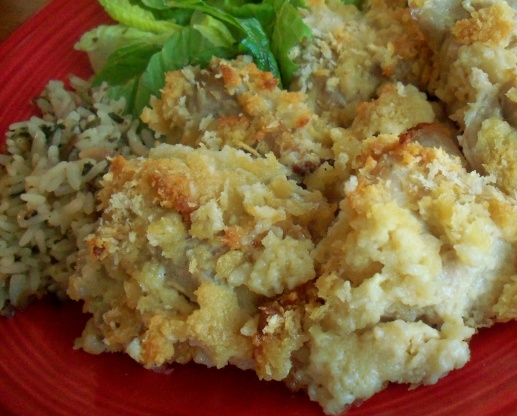 A sort of dijon chicken casserole -- I want to make it all the time, it's so good. I originally just marinated chicken this way & put the bread crumbs on top, but this is so much better -- the bread crumbs bake into a stuffing consitency & its just delicious.

Wow. This was really great. I did substitute mayo for miracle whip(and used a lot of it), but other than that I followed the recipe by the book. I served this for our Bastille Day diner, and it was a huge hit. Even if I don't use as much mayo next time, I know it will be good. Bravo Ann B.
Mix Miracle Whip and mustard well.
add chicken pieces& stir to coat.
add bread crumbs going slowly on last cup-- stop when mixture comes together in thick blob (usually takes 1 3/4 to 2 cups, depending on how big the chicken breasts were) put into baking dish-- I use a 13x6 casserole pan.
bake at 375 for about 50 minutes-- will have deep golden parts on top.
goes great with honey carrots.