Parsley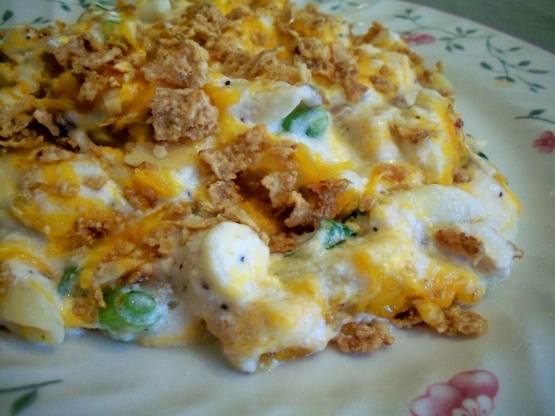 This turned out great, better then I thought. I don't cook often with canned soup, but one I had to try, I served it with tosses garden salad and soft fresh biscuits.

Well, good grief-I never thought such a "no frills" recipe would be enjoyed so much! Made it last night for dinner and my 6 yr. old had three helpings. Best thing is, I used lowfat sour cream and chicken soup, and fat free shredded cheddar and it was still rich and creamy with approximately 325 calories per serving (6).
Combine noodles and chicken in bowl; mix well.
Combine butter and soup in bowl, stirring until blended.
Add sour cream, salt, pepper, green onions and 1 1/2 cups cheese; mix well.
Spoon into buttered 2 1/2-quart baking dish.
Bake at 350 degrees for 30 minutes.
Sprinkle with mixture of 1/2 cup cheese and corn flakes.
Bake for 10 minutes or until cheese melts.