Annacia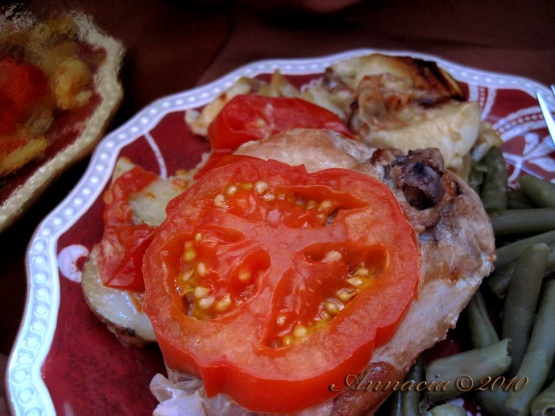 My DH's speciality, that we all enjoy. Very easy and we usually serve it over plain rice and with a salad. The amount of vegetables can be increased. I haven't tried it but probably it can be done in the oven too. I am not too sure on cooking time either but it's easy to say when it's done.

Please tell Daddy that he got 5 stars from this house. I made one addition and that was to sprinkle everything with garlic powder before adding the tomato's. My "Daddy" really loved it and even ate the onions *faint*. I know that this will be made again, it's so easy to put together and you don't even really need to check on it while cooking. Thanks for sharing Little :D.
Cut up the chicken.
Cut the vegetables in round slices about 1 cm thick.
Add oil to your pan.
Add the onion and the potato slices. Place the chicken on top of them.
Add the tomato slices and season.
Cover with a lid and let is cook on low. Don't need to stir it.