Carly Z.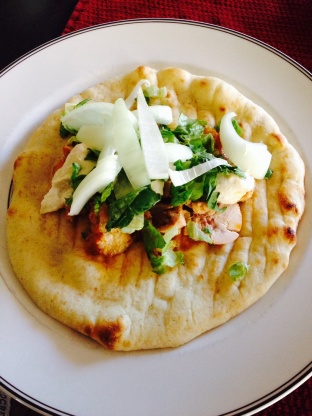 Originally a turkish dish of spit-roasted meat, döner kebab is now the best-selling fast food in Germany. This version using chicken is adapted from Australian Women's Weekly.

This is great! The meat comes out so juicy and flavorful! I omitted the salt and used fat free Greek yogurt with the hummus. So good! I took advantage of a good sale on chicken leg quarters, so I cooked both thighs and drumsticks this way and used the thighs as directed. The drumsticks were great sliced over a salad with Greek dressing for lunch the next day! Thanks for sharing!
Preheat barbecue or oven to 350°F.
Combine oil, spices, garlic, and lemon juice in a large bowl.
Add chicken and thoroughly coat in marinade.
Cook chicken about 1 hour, basting occasionally with remaining marinade, until browned and cooked through.
Combine yogurt and hummus in a medium bowl,.
Thinly slice chicken from the bone.
Serve with shredded lettuce, tomato, cucumber and yogurt-hummus mixture, in pita bread or tortillas.