Chicken Cutlets Emeril Style
Brenda.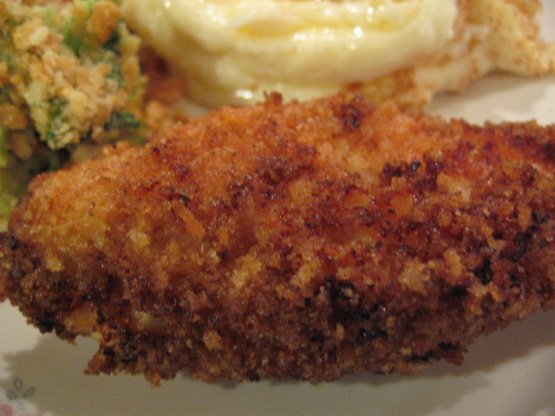 I found this recipe in a recipe booklet by Emeril and made it my own. He uses large chicken breasts pounded down, I used cutlets. They came out juicy and crunchy. They had so much flavor that we make this instead of using italian flavored bread crumbs. You can also use plain bread crumbs instead of panco.

Top Review by vrvrvr
This was wonderful! I reduced the panko and Emeril's a tad, and I made a quick pan sauce to pour over the chicken before serving. Everyone at the table loved this chicken and it went really well with mashed potatoes and roasted asparagus. Easy and delicious, this one is a winner!
Put enough oil in a large frying pan to fill about a quarter of an inch.
Put burner on medium heat.
In a shallow dish mix the bread crumbs and Essence till well blended.
Dip chicken into milk and then coat each side in breadcrumbs.
Fry each side till slightly brown.
Drain on paper towels to get the extra oil out.