Bergy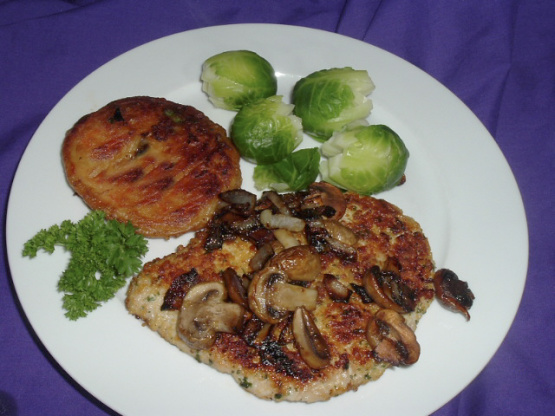 This is a delicious and easy to make dish which goes well with a variety of side dishes.

Very nice, came out well, very crispy and chicken was done just right. I did have to crush about 1 1/2 times more corn flakes to cover the cutlets so don't skimp or you'll end up doing it with batter-coated fingers. I baked it in the oven to save the fat and calories of pan frying. Like one of the other reviews states, it is dry with the corn flake coating and the white meat...it definitely needed gravy or some kind of sauce on it -pasta sauce & cheese was suggested & I think that would be wonderful. I had a jar of Boston Market roasted turkey gravy and heated that up and it definitely helped take away some of the dryness. Anyhow, all said, it's a very healthy and wonderful meal, I served mine w/white rice & steamed vegetables.
Remove cutlets from package and season with salt, pepper, and paprika.
Lightly flour each chicken breast.
Dip cutlet into egg mixture and allow excess to fully drip off.
Dip into cornflake crumbs.
*Can be fried on heated pan with oil or baked on a lightly greased pan at 375 degrees for 35-40 minutes.
Either way, delicious.
Enjoy!