Chicken Curry With Mango Chutney
Sara 76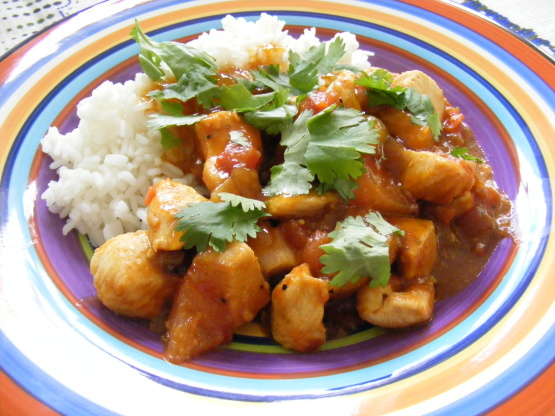 This recipe was picked up somewhere, somehow during the past 10 years or so, because it added a new deminsion to my stack of recipes that include mincemeat! There are several flavors of mango chutney, any one of which can be used here. The recipe can be made in advance & reheated, & it also freezes well.
Heat oil in skillet, & brown chicken in oil.
Remove chicken from skillet, & in same skillet, saute onion, garlic & gingerroot until soft.
Add curry paste, chicken stock, tomato, salt & pepper, mixing well.
Return chicken to skillet, then cover & cook over low heat until chicken is cooked through.
Stir in mincemeat & heavy cream.
Serve over rice & drizzle with chutney.
Garnish with cilantro.