Chicken Curry With Coconut Milk
JRH8598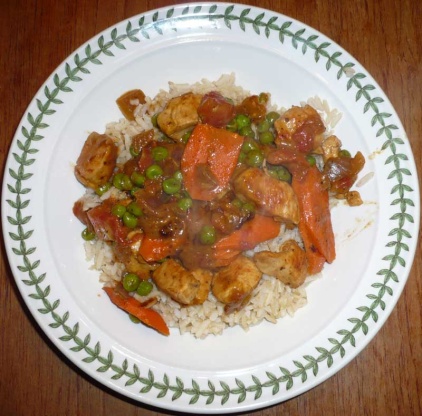 Adapted from "The minimalist cooks diner" by Marc Bittman. Printed in the San Jose Mercury News April 6, 2005.

Excellent. I used curry paste from a jar instead of curry powder, only one onion and 1/2 cup carrots. Even my husband liked this meal and he is not a fan of chicken and sauce recipes. We did not find that it needed salt or pepper, but that likely was because the curry paste added it for us. Thanks!
Steam carrot till just tender. Cut chicken into 1 inch pieces. Pour oil into large non-stick skillet. Turn heat to medium high. Add onions, pinch of salt, and some pepper. Reduce heat to medium and cook, stirring occasionally, until onions are very soft and almost falling apart, 15 minutes or more. Raise heat again and brown them a bit, then stir in curry and cook for another minute or so. Reduce heat to medium, add coconut milk and cook, stirrying occasionally, until it thickens, about 2 minutes. Add chicken and stir, then cook until done, 3-6 minutes. Add tomato, peas and carrots and cook until begetables are heated through. Taste and adjust seasonings.
Variation: Substitute shrimp or scallops for chicken. Scallops should be seared first in a little oil in a hot pan.