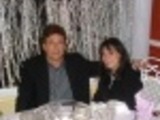 Best served with rice, this is a great way to use leftover chicken. Also, offer condiments such as watermelon pickles, chutney, salted peanuts, coconut, and raisins.
Directions
Saute curry powder in butter until nicely browned; stir in vegetables and apple; mix thoroughly. Add beef broth; bring to a boil, then stir in cream and milk; bring just to a boil again.
Combine cornstarch and cold water; add, and cook, stirring constantly, until mixture thickens. Stir in chicken. Season to taste.