PaulaG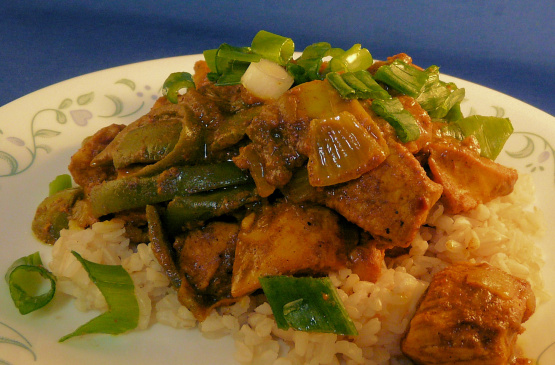 This recipe is different from typical chicken curry recipes-it doesn't use any yogurt or tomatoes-simply spices, adopted from a Pakistan fried...delicious.
This was very good. I made my own curry powder so I dunno if that changed anything. I halved it and was a bit worried the chicken would turn out dry, but it came out perfect. I'm making it again right now, but I'm adding potatoes and 'maybe' a tomato. Just because I have them though! This recipe is fine as is.
In large skillet, heat oil over medium-high heat.
brown all spices, onion and green pepper in oil.
add chicken to spice/oil mixture.
lightly brown chicken.
add chicken broth
cover pan for approximately 20 minutes (or until broth is absorbed).
serve warm with flour tortillas or rice.