Nimz1466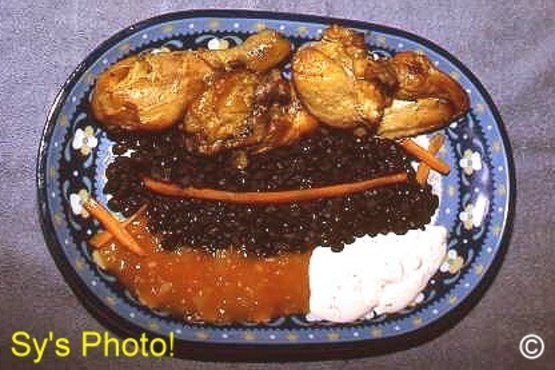 Ever wonder why the chicken crossed the road. Make this tasty dish and just before serving ask your guests this question, "Why did the chicken cross the road? And then let them tell you why! LOL------

This is an excellent recipe. The flavor combination worked well for us. I couldn't get a whole chicken so I used legs and thighs. I also didn't use the toaster oven broiler step since I thought it was nice and brown when I took it out of the oven. The chicken was very moist and tender. Loved the blue cheese and hot sauce dip and IMHO is a must with this recipe. Presentation was cute too. You did an excellent job coming up with this one. UPDATE: I'm updating this review to post Sy's photo since he is not able to at this time. I can see why too. Mine did not capture the recipe correctly the way he intended so I'm so glad to be able to post this for him. Truly a great recipe that you should try.
Cut up the chicken and remove the skin, excess fat and discard the back bone. Cut up the chicken breasts into smaller pieces and then add to a big bowl. Add the two thighs, two drum sticks and two chicken wings.
Now add to the bowl the oil, soy sauce, fennel seed, onion, cinnamon stick, coconut milk and toss the chicken in this mixture. Let sit for about 30 minutes.
Pre-heat an oven to 350 degrees and then bake for 1 hour (turn pieces half way through). Next use a toaster oven broiler element and broil for about 20 minutes turning the chicken until it is a nice brown in color.
While the chicken is cooking scrape clean the carrot. Take a knife and cut a long thin strip and save. Next cut four shorter strips and save.
Next place the can of beans in a pot and heat thoroughly.
Using an oblong plate if possible, place the beans in the center and the length of the plate (leaving the sides clean so food can be added), flatten the beans with a folk; the beans represent a black top roadway.
Next place the long carrot strip in the center of the beans, lengthwise; the carrot represents a highway divider line.
Next use two small strips and create a cross "X" and place at one end of the highway; this represents a highway chicken crossing warning sign. Use two more small carrot strips and create a second cross "X" and place at the other end of the highway.
Next place the chicken pieces on one side of the place (one side of the highway).
Place the blue cheese dressing on the other side of the highway (half the length of the plate) and place the hot Tabasco sauce on the same side as well.
Now just before serving, ask your guests "Why did the chicken cross the road? And see what the will say. Then let them dig in and serve themselves on individual plates. Enjoy!