Nimz1466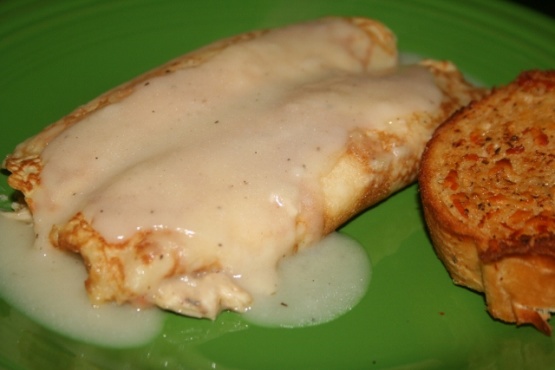 Looked at all the other Chicken Crepe recipes and mine is not like the others! I first found this recipe in my mom's old cook book, but have totally tweaked it and made it my own! It's one of my favorites to eat, and my family gets so excited when I make these! I usually double or triple the gravy to have lots of it to pour over the crepes and enough left over to have with mashed potatoes.

Top Review by J-Lynn
We really enjoyed these, so I'll have to record my modifications for future reference. I made the crepes as directed but generally prefer them thinner, so next time I will add more milk. (Not to mention I only got 5 9" crepes.) I used thick-sliced deli turkey instead of diced chicken. I didn't want to serve them as a casserole, so I decreased the gravy- 2 TBSP each of butter and flour, and only 1 cup of broth. This gravy got perfectly thick, then I added all of it to the meat mixture. We filled our crepes, rolled them up, and ate them with a fork. Yummy! (Could add more veggies next time; my version doesn't make much filling.)
Crepes:.
Mix flour, baking powder and salt.
Stir in remaining ingredients.
Beat with electric mixer until smooth.
Lightly butter small skillet; heat over medium heat until bubbly.
For each crepe, pour 1/4 cup of the batter into skillet.
Immediately rotate skillet until thin film of batter covers bottom.
Cook until light brown, turn, and cook other side until light brown.
Stack crepes, covering with a towel to prevent drying out while preparing filling.
Gravy:.
Heat butter over low heat until melted in a sauce pan.
Blend in flour and salt.
Cook over low heat, stirring constantly, until mixture is smooth and bubbly.
Remove from heat.
Stir in broth.
Heat to boiling, stirring constantly.
Boil and stir 1 minute.
Filling:.
Sauté carrots, celery and onion in a little bit of oil in a skillet until tender.
Mix chicken, vegetables, and just enough gravy to coat everything nicely in a bowl.
Put about 1/4 cup of mixture on center of each crepe and roll up.
Place crepes seam side down in a 9x13 baking dish.
Pour remaining gravy over crepes.
Bake uncovered in 350°F oven until crepes are hot, about 20 minutes.
Can be frozen before baking, just thaw completely before putting in the oven.
Also can freeze filling and crepes separate, just make sure to place wax paper between crepes before freezing.