Chicken Cordon Blue Cheese
Bergy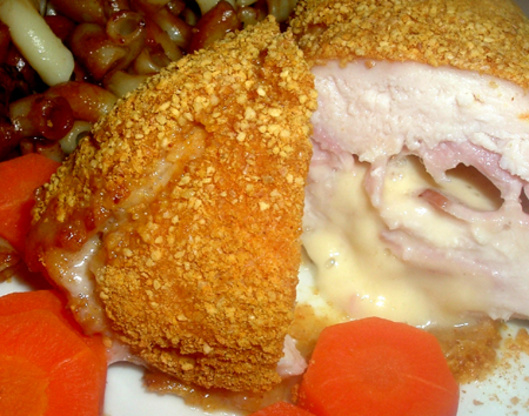 A simple but elegant sharp flavoured dish.

Very easy if you have everything in place before you start handling the chicken. I reduced the cooking time to 45 minutes for a very thick breast. The Shake and Bake made it a bit too salty. I think I'll use seasoned bread crumbs next time.
8

slices black forest ham

8

teaspoons crumbled blue cheese
1⁄2 cup Shake-n-Bake (Original, Extra Crisp, one pouch)
1⁄4 cup milk
prepare your boneless skinless chicken breasts by slicing them almost in half through the side - butterflying them.
spread them open and set aside.
pour your milk on a plate the appropriate size for your chicken breast to sit on.
sprinkle your shake 'n' bake mixed with pepper to taste on another plate the same size.
place two slices of ham together neatly.
in the center of the ham sprinkle two teaspoons of blue cheese.
roll the ham rather tightly to avoid losing your cheese.
place the ham in the middle of the chicken breast and close it - secure with a couple of toothpicks.
gently place the chicken in the milk and with your hand pat the top with the milk - a gentle milk bath will secure the shake 'n' bake and keep the chicken moist.
now gently place in the shake 'n' bake and pat crumbles on the top and sides.
place the breasts in a baking dish and cook at 350 degrees for 1 hour.
allow the chicken to cool for 5 minutes before removing the toothpics and serve.