Chicken Cordon Bleu Casserole
fawn512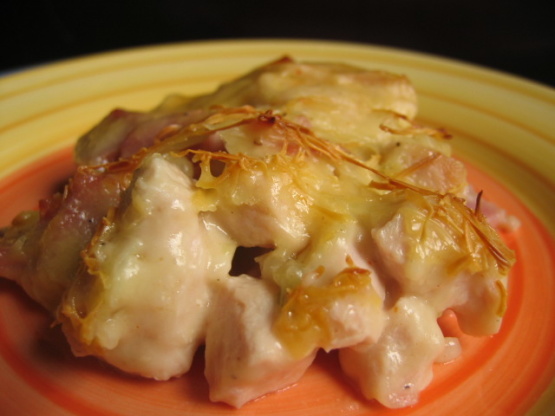 No canned soup in this one. I serve it over rice or noodles. Great way to use up leftover chicken and/or ham.

Top Review by newdel
This was AMAZING!! My family loved it. We usually make Chicken Cordon Bleu, but it's a lot of work, and can sometimes dry out. This was so moist and delicious. I don't think that we'll make the original again. The only thing that I did differently was to make a roux with the butter, flour and milk. Thanks for the great recipe!
Preheat oven to 350. Lightly spray/grease a 3-qt casserole dish.
Place cubed chicken and cubed ham in a large bowl; set aside.
In a large saucepan on medium heat, melt butter. Add in onion, celery and mushrooms and sautee 5-6 minutes or until soft.
In a small bowl, whisk together milk and flour until smooth; pour into saucepan. Add in salt, pepper, paprika, and parsley; stir well and heat through.
Reduce heat to medium-low and stir in shredded cheese. Stir often until cheese is melted.
Pour sauce mixture over chicken/ham mixture and toss to coat. Pour into prepared casserole dish; press down so all meat is covered with sauce. Sprinkle breadcrumbs over top.
Bake, uncovered at 350 for 30-35 minutes or until bubbly and just beginning to brown.
Serve over hot cooked noodles or rice, if desired.